BLOODYWOOD - exhibition at De Kunsthal Rotterdam
In September 2016, De Kunsthal in Rotterdam exhibited more than 90 works from the unique collection of hand-painted film posters by Mr Mandy Elsas. He collected the paintings during his many visits to Ghana. These brightly coloured canvases were made as assignments during the 80/90's by street painters in order to advertise the showing of usually violent video films in the many improvised little movie theaters operating in Ghana at that time. The depictions, painted on old and ripped floursacks, contain a narrative. They are often extreme and bizar.
These posters, for which the local painters made their own interpretations for each film, represent a typically Ghanaian phenomenon. The collection of Mandy Elsas grew throughout the years to over 750 pieces and is already a major historical document. By now, the brightly coloured oil paints of the hand painted advertising billboards have been replaced by the lurid tints of bleached out machine printed material. Mandy Elsas once sold 3 pieces of his collection: one to tattoo king Henk Schiffmacher and 2 works to the Tropenmuseum. He rather likes to keep the remaining collection in his possession.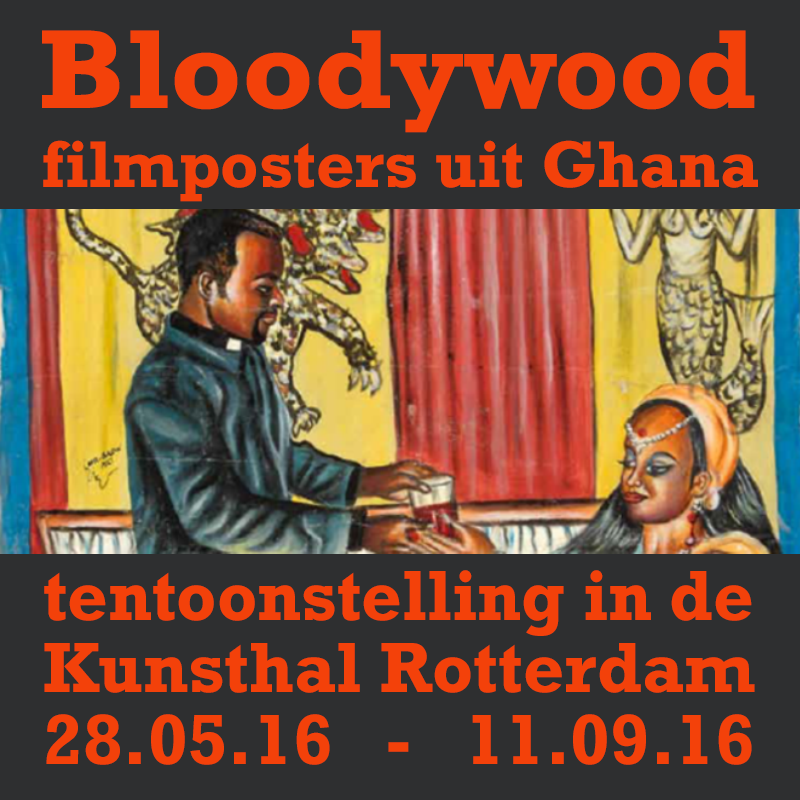 The text below is from the catalog accompanying the exhibition 'Killers on canvas' in 2005 in the Poster Museum, Hoorn. Author: Frans van Lier i.s.m. Alberta Opoku .
An episode in African folk art
When the video cassette as a compact carrier for films reached the West African country of Ghana in the early 1980s, entrepreneurial operators travelled with video recorders and TV-sets to villages, to show violent and often bloodthirsty films in primitive open-air cinemas. 
A delighted and noisy audience seated on wooden benches behind a fence of planks or sheets watches the shocking events in films from their own country or from Nigeria, India, China or America.
These film-shows obviously need to be advertised and because one advertising poster is sufficient for each village, local painters are set to work with brush and paint to produce an arresting image. They use the inside of a flour sack which, once split open, provide the perfect size for a large and durable advertising painting. The artists, who prior to the age of video had honed their talents on advertising signs, often for hairdressing businesses, not only find an extra source of income in the film posters, but also discover a new artistic freedom. By illustrating the story of a film they tap into new layers in their imagination. In particular, a freer association with sex and physicality is now possible than had previously been the case.
The artists use this freedom to reflect the essence of a film completely according to their own fancy. Sometimes they simply copy the illustration on the cover of the video cassette, but more often they give their own interpretation of the film which they had either been shown beforehand or been told about in
superlatives.
The posters for Ghanaian or Nigerian films in particular often offer blood chilling images. Men with wolf's heads, animals with human heads, women strangled by gigantic snakes or disappearing into the jaws of a crocodile, living skeletons and severed heads screaming in fear are among the themes on these paintings which show an unknown and impressive aspect of African folk art. 
These are large posters, around 100 x 150 cm, painted on the split open sacks. Sometimes there are even two sacks sewn together to achieve the desired billboard size. The paint is applied directly on the jute without an undercoat; keeping the weight down. After all, the video travels from village to village, and the poster travels with it. 
Sometimes there are several videos in circulation of the same film, so more than one advertising poster is painted, either by the same artist or by someone else. In this case the images on the posters can differ considerably. A film about a vicious dog will show a menacing Labrador on one poster and a snarling mastiff on another. Once the videos have done the rounds or are simply worn out, the posters also lose their function. The painted jute can then be used in the home, as a curtain against flies or a sleeping mat for instance.
The Amsterdam businessman Mandy Elsas has rescued more than six hundred of these posters from this kind of recycling by buying them from the cinema-operators. He travels regularly to Ghana for his shop in exotic products, and became fascinated by this unique poster phenomenon. He made friends with various painters, who give themselves colourful names: Bab's Art, Ali, Leonardo, Salvation, Dallas, Heavy J or Kwesi Blue (signs with Mr. Brew Art or T-Brew Art).The latter is an African version of Dutch artist Herman Brood and specialises in dramatic horror with a great deal of flying blood.
The mobile cinemas passed their peak in the mid-1990s when television and video recorders became common in Ghana and all the films could be watched at home. This meant the end was also near for this unique form of cinema advertising. For a short period the combination of two unequal cultures – film and traditional painting – had produced hundreds of paintings which would otherwise not have existed. They have been preserved for art history as a modest counterbalance to an earlier development, when European avant-gardists like Picasso became inspired by African masks and statues in the 1910s and 1920s. In this case African painters were inspired by western themes and ideas. And just as the expressionists gave their own interpretations, so the Africans were faithful to their own idiom.