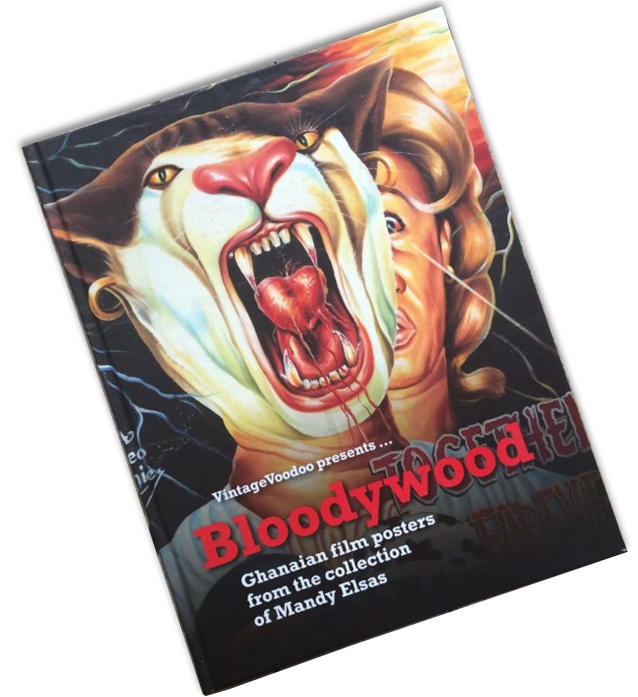 Since 1999 Mandy Elsas regularly visits Ghana. He buys merchandise for his shop in Amsterdam. Each year he is going there and not only for business – he seeks adventure and visits small villages along the coast.
The occupants of those rather poor villages welcome Mandy as a friend. They trust the visitor with his easy smile and cheerfully they let him film and photograph them.
Elsas is a smart man, with a quick intelligence. When he saw hand-painted posters for blockbuster movies, which usually illustrated violent interpretations of the current movie shown in that area, he immediately fell in love with them and started his own collection.
In his shop in Amsterdam he met a Ghanaian businessman who sold second hand televisions and computers as a trade, shipping the goods from Holland to Ghana. This man was Charlie 'Booyaka' Agyecoum, a rapper who especially dwelt on the subject of "Weapons of Mass Development". After several possibly somewhat unlucky business transactions he became rapidly known as the 'Master of Disaster'.
"BOOYAKA", pronounced fast and loud, means at the same time completely nothing and a lot of things. It stands for the obscure adventures in African nightclubs, Rasta's who guard pieces of land with machineguns and the excursions Mandy made in Ghana with Charlie Agyecoum.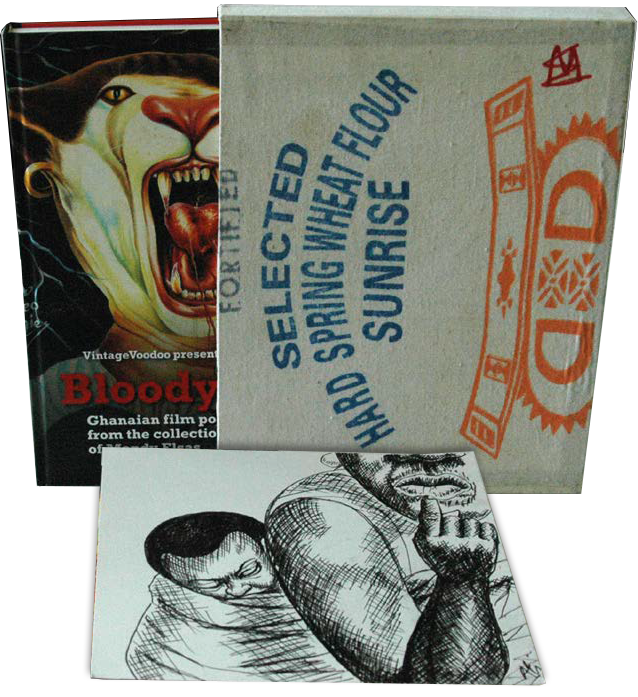 Elsas asked 'Booyaka' Charlie to lead him to painters who made the movie-posters. In beat-up old taxi's, with hardly enough left of the floor, the reggae sounds of Alpha Blondy full blast, smoking king-size joints and smiling from ear to ear, Mandy got escorted to unknown places. Soon he became totally disoriented. And he enjoyed it fully.
"Yes mon! Booyaka stylee! Trust yourself!"
Through Booyaka Elsas met diverse painters, like the flamboyant Kwesi Blue. With him he explored the coast of West-Ghana. Just like in India, where movie-posters are more and more digitally made, the painter's profession is almost ancient history. The digital revolution has made the hand painted movie-posters redundant.
It's remarkably that names such as Bollywood, for India cinema, for Nigeria Nollywood and the Tamil Cinema Kollywood which stands for Kodambakkum, are at the same time accepted and criticized.One does not want to be associated with Hollywood because America is getting less and less popular. Hollywood, Bollywood, Nollywood, Kollywood – Elsas proposes to add a new name: Bloodywood, which stand for Ghanaian/Nigerian cinema.
A part of the collection he has built over the years exists of Bollywood film images which are interpreted by Ghanaian painters. Just like in the African movies the paintings of one movie can be seen with different interpretations by different painters, playing with their fantasy. This sometimes even results in a range of about eight posters of one movie. The posters generally lost their value after the showing of the main feature movie that is portrayed. The torn up flour bags which served as canvas, were more often than not used as a sleeping bag or a fly curtain.
Elsas has built a considerable collection and after an article in the Dutch paper Het Parool, he came into contact with the Affiche Museum in Hoorn. He exhibited a part of his collection in this museum (November 2005), accompanied by a nice catalogue with a number of beautiful images. A disagreement over a chopped-up head in one of the posters –"It's a no-brainer!" – led to articles in Het Parool and de Volkskrant. The poster was not removed from the exhibition.
The adventure hasn't ended yet - it's just begun. Who knows where this adventure might lead Mandy Elsas …
BOOYAKA STYLEE
Iceburner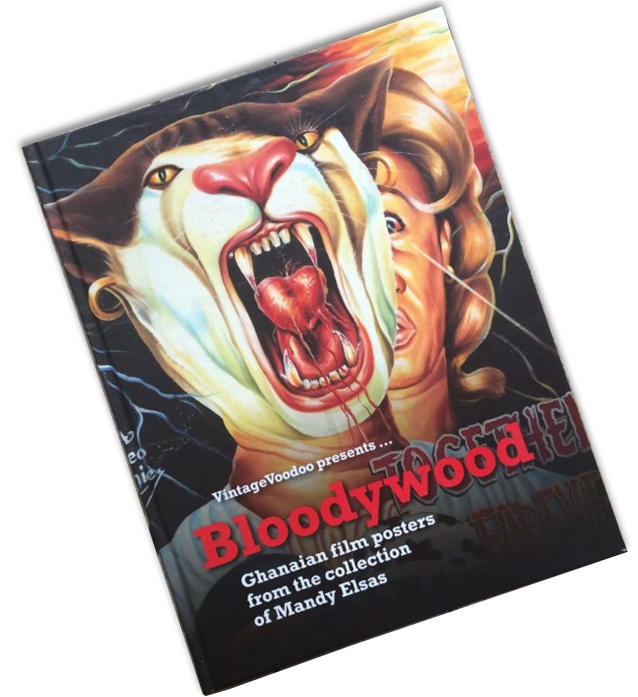 Bloodywood - Ghanaian film posters from the collection of Mandy Elsas can be ordered for € 64.95 (including shipping costs worldwide).
Bloodywood is also available in a limited edition of 150 copies. A numbered edition comes in a slipcase with an original drawing by one of the artists of the book. The slipcase is covered with the printed back of the flour bag on which the posters are painted. This special edition cost € 150.00.